Four more (whole) days are left in 2012. As the world seems to turn a bit slower in these final hours of the year, I decided it's time for some personal retrospective. Since I read Pat Kua's Retrospective handbook this year, I decided to do some writing about my year on my blog as a personal retrospective. I will cover the books I read and the conferences I visited in later blog entries. This blog entry will stuff that happened during the year.
The book
Oh, yeah, I eventually finished my book and had it published back in July. It was a bit weird to walk into a bookstore in the states, and see it on the shelf while I was at CAST in San Jose, and when I came back one week later, I was unable to find the book in a bookstore in the country I grew up. Well, since then I try to keep a pile of books as give-aways for talks and conferences near to me.
You could imagine that once you have published a book, you love to read reviews of it. That holds to some extent. Of course, you love to read twitter comments (that are positive), reviews (that are positive), but most likely, you start loving the stories you hear from readers. That said, one conference attendee, Inge, at the Agile Testing Days approached me, and told me that she had handed over my book to her programmers, and they are now addicted. It's these stories that make up for all the stuff you read on bad twitter comments and bad book reviews.
On the road
With the publication of the book, I also started to be more and more on the road. According to TripIt I was on the road for 305 days in 2012, on 109 trips, traveled 80,487 kms while visiting 35 cities in 9 countries. Yes, you probably counted right, I was not at home every weekend. Especially once you consider that I had taken four weeks off during June.
But where have I been to? There was of course Germany, the States, Sweden, the UK, Ucraine, the Netherlands, oh, and Austria. I think Denmark and Poland also count as visited countries, even though I merely traveled through them on my way to other destinations. All of them were business trips. But what about family time?
The Baby
Then there was Nico.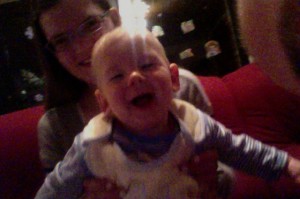 Born on June 6th, my son is filling our home with some pleasures.
Weight loss
As part of my readings this year, I read about the Four Hour Body. That said, my weight in early January 2012 was 112 kgs, and went to a low in June at 87,9 kgs. I lost about 25 kgs in five months. How did I do that? Mostly, I gave up on sugar, and did some other neat tricks. After about three years of exercising up to six times per week, I figured it's my diet that I need to change.
Since June I try to experiment with food to find out what is a steady diet that I can keep my weight at. That said, since then my weight loss is stagnating, and I feel good about it. I gave up at reaching 20 % body fat once I figured out I would probably on an all-time low of 81 kgs then.
Running
Since early 2011 I started running. Being on the road a lot means that regular exercise beyond running is a pain. At one day in early July this year, I had the farthest distance ran, so far, which is at 25 kms right now. Since then I exercise for a run next year near my hometown.
BBST
Oh, I nearly forgot this one. I finished all four courses on black-box software testing this year – the forth being the instructor's course. Doing all this stuff in parallel to my traveling, the baby, and the exercising was still a drag, but it worked out in the end. At times I have been exhausted from it – even with the final review of my book in parallel – and I had to take time from other stuff to get this all done. Suffice it to say that I am comfortable with few sleep.
That's it for the time being. These were the major events that took place for me this year. There were more, tinier things, that piled up to something, maybe. Mostly, I think these events are not worth mentioning. I will go for the conferences next.