A while back I received a gift from Matt Heusser, my early mentor in the Miagi-Do school. It asked me to test it. So, I decided to make a series of blog entries over the holidays out of it. Today we will start with the most obvious thing: unpacking.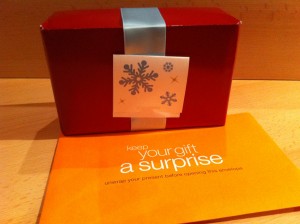 As you can see in the picture, I received a cuboid package in wrapping paper. There is a card attached. There is also a small greeting label added. The card it turns out to be empty. No manual, no further information about my mission.
The little piece of paper on the wrapping paper revealed a basic inquiry for my mission.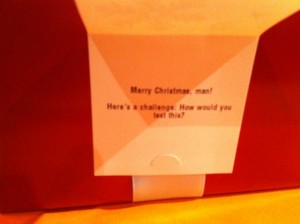 Merry Christmas, man!

Here's a challenge: How would you test this?
That's my basic mission. I'm wondering whom to turn to when I got any additional questions. And I wonder what the target group for the gift will be. I denote these questions, as I might get back to my client with it.
I start to unpacke the wrapping paper. The bow goes first. It's glued to the paper. So I need some careful removal in order to keep the paper in shape. My wife usually likes to keep wrapping paper to reuse it. So I take special care about that.
When it comes to unwrapping the main package, I face a problem. I can't unwrap the paper without damaging it. I note down my thoughts about it. Though I was not explicitly told what to test here, I tested the amazon gift wrapping paper. It seems to be of good quality, not too thin. And actually quite well glued together.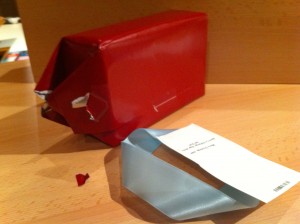 I see a brown box out of cardboard inside. I pull off the wrapping paper completely to reveal the product.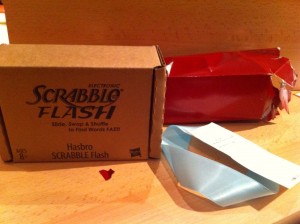 It turns out to be a toy. "Electronic Scrabble Flash, Slide, Swap & Shuffle to find words fast. Ages 8+" the box claims. As I look on the box, I am amazed that it actually comes from the US, but still has the German "Grünen Punkt" on it, a symbol indicating that it can be recycled.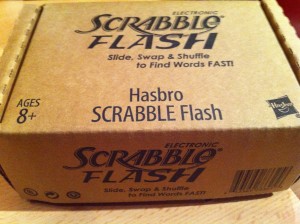 I turn the box around, to see if I can get some more out of it before opening the box. The only other claim I can find is the trademark on one side of the box. It states that Scrabble is a trademark of Hasbro in the US. I will keep that in mind while going further.
I will unpack the main package in my next blog entry in this series.