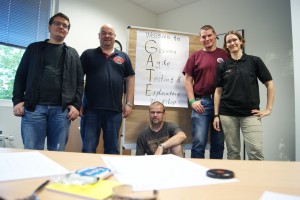 Last Saturday the first German Agile Testing and Exploratory workshop took place in Hamburg, Germany. As the content owner I asked every participant upfront in an e-mail to prepare a statement on the following three questions:
What is your position in regard to Agile Testing?
What is your position on Exploratory Testing?
What is happening in the field with regard to Agile and Exploratory Testing?
The participants for this first workshop were (in the picture from left to right)
Markus Gärtner
Meike Mertsch
Here are the insights from my notes and memories.
Continue reading

First German Agile Testing and Exploratory Workshop